Description
This diesel cook top is suitable for caravans Rvs and Boats, it uses very little diesel and is extremely safe due to no naked flames and no gas being used
The Shilla diesel cook top comes with a full 2 year warranty & is simple to install
No LPG/propane
Get rid of unsafe LPG bottles.
Simply fill up your 4wd and your caravan fuel at the same time
The Shilla diesel combustion process eliminates the need for hazardous heavier-than-air gaseous fuels and eliminates the danger of carbon monoxide poisoning.
No naked flame
An open flame in a boat, caravan or RV is always hazardous the Shilla diesel cookers do not have an open flame.
An open flame also creates moisture in your boat. Unlike LPG/propane systems, Diesel stoves draw combustion air from the cabin and exhaust overboard. This process dries the cabin interior.
The heat source for this cooker is a diesel burner which is integrated into the cooker. The burner heats a ceramic cooking surface which has room for two small pots or saucepans. With only the tinted glass ceramic cooking surface being visible it makes the SHILLA diesel cooker visually appealing , also with no control knobs mounted on the cooker it makes it a breeze to clean. With no gas flame or gas required to run this diesel cook top it makes it a very safe option for all RVs
Installation Diagram for the Shilla Diesel Cook Top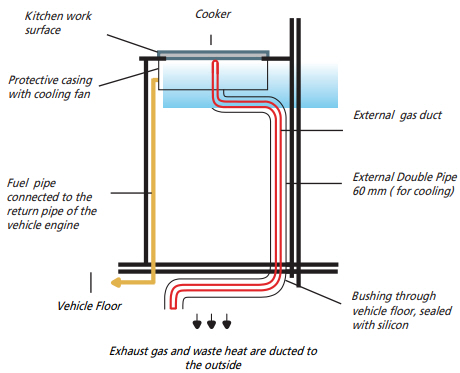 The Shilla Diesel cook top is straight forward to install in most vehicles. All that is needed is to cut out the required dimensions in your bench top The cooker is then inserted from above into the recess in the kitchen work surface. waste heat is duct-ed from the underside of the cooker to the outside via a flexible coaxial pipe.
SPECIFICATIONS-
Power:                                         900-2200 W 3000-8000 BTU
Operating voltage:                    12 V
Electricity consumption:         0.55-0.85 A (+ stove included)
Fuel Consumption (ml/h)       110-264
Power Consumption                 .55 to .85Amps
Standby Consumption              1mA
Short Term Max Power            8 to 10Amps
Working Environment            -25 to 35oC
Number Of Burners                 1
Click On Above For User Installation Manual